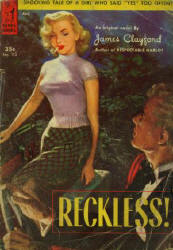 Venus 113
Cameo 310 Carnival 925
This is the only case I have found where two different novels used not only the same cover image, but the same title. I own them both, and I can confirm that they are, indeed, different works. The two authors each used a pseudonym.
"James Clayford" was a stock pseudonym (which was also used by Frank Armer, Norman A. Daniels, and possibly others). In this case, the author is E. Pearl Gaddis Dern, who most often wrote under the name "Peggy Gaddis."
"Kermit Welles" was only one of a dozen names used by author Manning Lee Stokes. Others included: Garth Davis, Paul Edwards, Jeffrey Lord, Bernice Ludwell, Jessica Mandy, Lee Manning, March Marlowe, Helen Sayle, Ken Stanton and Kirk Westley. He also penned at least twelve Nick Carter novels. This is one of at least ten novels using the "Welles" psudonym.
The books were printed in the order seen here. Venus 113 was printed in 1951. The second Reckless! (1954) was a reprint of Pleasure Bound (1952). However, that second Reckless! lists only the 1954 copyright date. This habit of renaming a novel and then using the same cover art was actually pretty common among books using various Hanro labels.
Hanro Corporation (New York), was owned by Morris S. Latzen, and produced imprints that included Ecstasy Novels, Exotic Novels, Falcon Books, Rainbow Books, Cameo Books, Carnival Books, Original Novels, Phantom Books, Star Books, Star Novels, Venus Books, and The West In Action.
For more info about Hanro, as well as indexed lists of books printed by each of these labels, see Kenneth R. Johnson's online reference book The Digest Index, which you can access HERE.
The scan of Cameo 310 is courtesy of Kenneth R. Johnson