The Ultimate Encyclopedia of Science Fiction:
The Definitive Illustrated Guide
general editor by David Pringle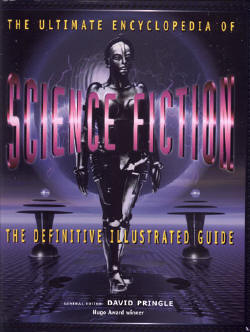 JG Press, Inc., North Dighton, MA. 1996. Hardcover in dust jacket. 304 pages. (9¼ X 11). Foreword by the editor. Introduction by the editor. This is one of those big glossy hardcovers that tries to cover every facet of science fiction entertainment. It covers the writers, books, magazines, movies, TV, with many photos of authors and other SF personalities. A glossary of science fiction jargon is provided. And finally, a six page index is provided to help you find your way through this book.
Scan and Commentary by Bob Gaines