Fantasy:
The Definitive Illustrated Guide
general editor David Pringle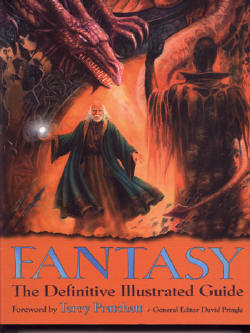 Carlton Books Ltd, London, England. 2002. Trade paperback. 272 pages. (9 X 11). Foreword by Terry Pratchett. Introduction by the editor. A history of different types of fantasy is presented. The next chapter covers fantasy on film. The televison fantasy programs, such as Bewitched, The Addams Family, and Topper are covered. There is a who's who of fantasy authors, with such people as Terry Brooks, Avram Davidson, Lord Dunsany, and Robert Jordan profiled. The next chapter covers fantasy characters & entities. Fantasy games, fantasy worlds, fantasy magazines, and a glossary finish the book. This volume covers much material not seen in other volumes of this type. This is one of those project books, with many individuals writing different parts. An excellent, beautiful book.
Scan and Commentary by Bob Gaines