All Our Yesterdays
an informal history of science fiction fandom in the forties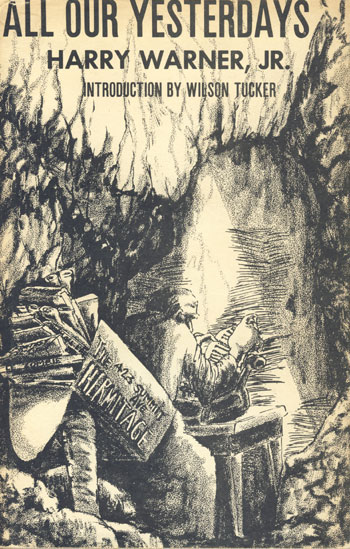 by Harry Warner, Jr.
Advent Publishers, Inc., Chicago, IL. April 1969. Hardcover in dust jacket. 336 pages. (5¾ X 8¾). Introduction by Wilson Tucker. Foreword by the author. Warner was one of the most prolific writers in the fan press, and from the late thirties, was able to write thousands of letters of comment and articles for hundreds of amateur publications. He gathered lots of information on fans and events and decided to write a history of the movement for publication. This was the first volume and it covered the 1940s. There are many small pictures of fans and fans who became famous writers. As in mystery and fantasy fiction there are individuals who form clubs and write about their favorite authors and books. This book is for the reader who wants to know how some of their favorite authors got started in the field.
All Our Yesterdays: an informal history of science fiction fandom in the forties, by Harry Warner, Jr. Advent: Publishers, Inc., Chicago, IL. July 1972. Trade paperback. 336 pages. (5½ X 8½). Reprint of the hardcover edition.
Scan and Commentary by Bob Gaines