Western Series and Sequels:
A Reference Guide
by Bernard A. Drew, Martin H. Greenberg, and Charles G. Waugh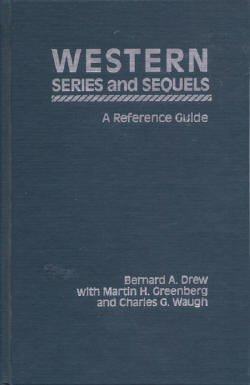 Garland Publishing, New York. 1986. Hardcover with no dust jacket. 173 pages. (5¾ X 8¾). Introduction: Back In The Saddle Again by Bernard A. Drew. A history of westerns that were done in series is presented by Mr. Drew. He covers both the magazines and the paperbacks. The author provides a list of works consulted. Next, there is an alphabetical listing by author along with their series creations. The text is arranged alphabetically by series title and name of writer with the books or stories listed in chronological order. Each item will normally have a publisher and date of publication. Some of the series run into a couple of hundred titles. Each series is numbered with a total of 375. The very next item is an addenda of corrections and new additions that appears in new, darker print. Following this is an index by all of the book and story titles. This section is also in a different print type. An excellent index that needs to be updated and expanded with more information on the authors and the series.
Scan and Commentary by Bob Gaines