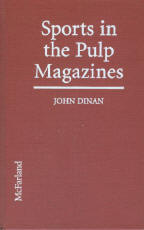 by John Dinan. McFarland & Company, Inc, Jefferson, NC. 1998. Hardcover issued without jacket. Dark red boards with white lettering on cover and spine. 204 pages.
While this may not be a genre that interests most pulp collectors, it IS important, and this is one of the few books I know that addresses it.
The book covers first pulp magazines in general, then sports magazines, and finally breaks things down into specific sports, such as baseball, basketball, boxing, etc.