Science Fiction, Fantasy,
and Weird Fiction Magazines
edited by Marshall B. Tymn and Mike Ashley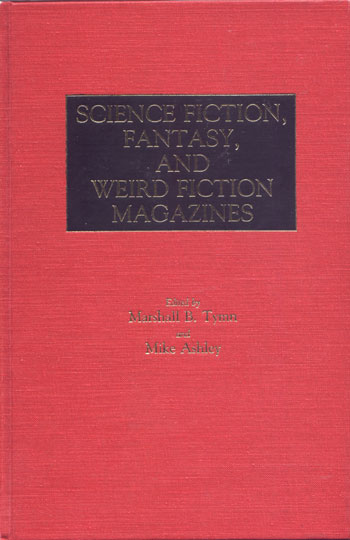 Greenwood Press, Westport, CN. 1985. Hardcover with no dust jacket. 970 pages. (6¼ X 9½). Preface by the authors. Introduction by Thomas D. Clareson. A reference work that covers all of the science fiction, fantasy, and weird fiction magazines. The book is arranged alphabetically by magazine title and each contributor does an essay on the magazines history, mentioning important authors and stories. The sources of information and publishing history is provided for each magazine. The length of the essays usually depends on the importance and length of the publication. Also included are anthologies that ran in series. Joseph L. Sanders covers the academic periodicals and major fanzines. Non-English-language magazines are covered by Hal W. Hall and Mike Ashley. They also have an index to major cover artists. There is a chronological listing of when a magazine first appeared. A bibliography of index sources and an index finish up the book. This is a major reference work for the magazines.
Scan and Commentary by Bob Gaines