Monthly Terrors:
An Index to the Weird Fantasy Magazines Published in the United States and Great Britain
compiled by Frank H. Parnell and Mike Ashley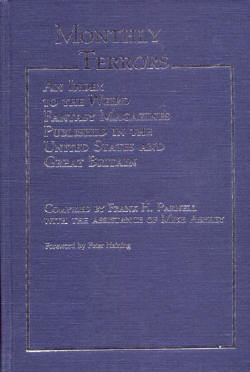 Greenwood Press, Westport, CN. 1985. Hardcover with no dust jacket. 602 pages. (6¼ X 9½). Foreword by Peter Haining. A user's guide tells the reader how to use the index. The entries are arranged by magazine title and then by issue in a chronological order and as the stories appear in each issue. Each magazine has a brief description of its place in the field. Many titles that would be considered semi-prozines with very low distribution are covered, making this index more complete. The author index is alphabetical, with all items published in the magazines in alphabetical order. The artist index is alphabetical showing their cover contributions. The editor index shows what position each held with the magazines. There is also a listing of series with the principal writer(s) responsible. The editors also include a list of magazines not included in the index. Next, the editors include a chronological list of magazines. The next section breaks the magazine titles down by country, and within the United States, by individual state. This is an excellent index and could be very helpful in locating stories for reprinting or reading.
Scan and Commentary by Bob Gaines