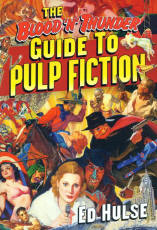 By Ed Hulse. Murania Press. 2013. Oversized paperback. 413 pages.
This is the direct result of the popularity of Hulse's first book. To say it was "eagerly anticipated" would be an understatement. I obtained a copy at the Windy City Pulp convention, and they were sold out before the end of the first day.
Hulse expands his observations and comments on the authors and publishers of the day, and how the pulps influenced popular culture (then and now) in the areas of Science Fiction, Western, Detective, Horror, Adult (Spicy), Fantasy, Sports, and other genres.