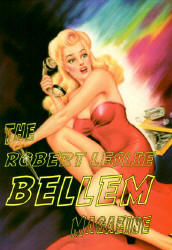 Pulp Tales Press, printed in Lexington, KY, 2009. Oversized paperback, 122 pages.
This "magazine" gives the impression that the stories are copied directly from their previous "Spicy" magazines, but I'm not really sure. There are some original ads and cartoons. The source of the original stories is not given, and in fact, it's one of the most poorly documented books I've ever seen.
The stories themselves are great ... eleven of them, plus a two-page article by Bellem about his writing. Three of the stories are under pseudonyms: Jerome Severs Perry, Harley L. Court and Ellery Watson Calder.