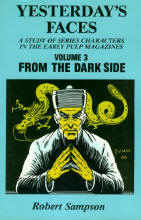 "A Study of Series Characters in the Early Pulp Magazines," by Robert Sampson. Bowling Green University Popular Press, Bowling Green, OH. No publication date listed. Softcover. 266 pages.
Some B&W cover illustrations. It would make sense that series about serial characters would include a volume on famous villains. For most of these, of course, characterization means that the individuals aren't ALL bad, and they're often good guys that are forced to do bad things in the name of some greater good. The Saint, Rafferty, Boston Betty, The Crimson Clown, etc, fit into this niche. Others, like Fu Manchu, are pursued across the pages of time.
Again, a detailed listing of where and when the stories were published is added to a detailed index. This continues through the rest of the series.