Romantic Hearts:
A Personal Logbook for Romance Readers
compiled and edited by Peggy J. Jaegly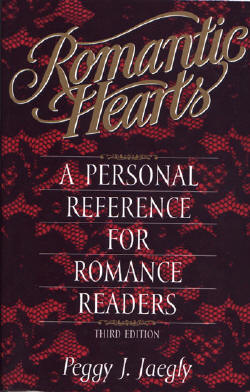 Rose Publishing, Flagtown, NJ. 1992. Trade paperback. 620 pages. (7 X 10). Introduction by the editor. This is a checkoff book for romance readers. The entries are arranged in several different ways throughout the index. Sometimes by author and other times by book number. At other times by month and date of issue. Over all, itís sorted by publisher and line. The next section is a listing of favorite authors alphabetical by author and title. There is a short section of profiles by authors telling about their lives and writings. Next, we have a long section of authors and their pseudonyms. It will help the romance reader fill in some empty spots in their collection.
Scan and Commentary by Bob Gaines