Ballantine Books: The First Decade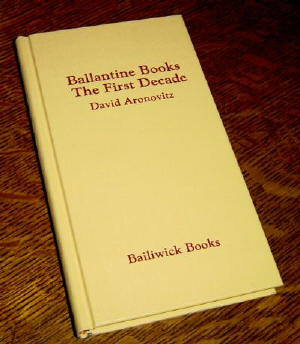 by David Aronovitz
Baliwick Books, Rochester, Michigan, 1987. Hardcover issued without jacket. 107 pages. Self published, and signed by the author on request. The book is a bibliography of (and the same size and shape of) the Ballantine hardcover books (about 4" X 7").
There is a brief, 15-page historical introduction, followed by a detailed bibliography, listed by author. Indexes contain listings by subject matter and publisher. (Ballantine did not publish all of these "Ballantine Books." For example, more than 20 were printed by Houghton-Mifflin.)
While book numbers are included in the data, there is no numerical listing. This is the ONLY reference book that I'm aware that provides bibliographic information on these volumes.
To order a copy of this book, click the link below.