Antique Trader® Collectible Paperback Price Guide
by Gary Lovisi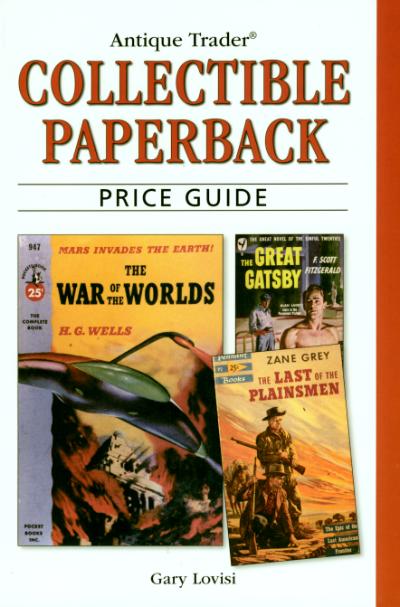 Krause Publications, Iola, WI. Trade-sized paperback, 302 pages. Lovisi is the head of Gryphon Books, and the editor/publisher of Paperback Parade fanzine.
First, a word about what this book is NOT. It isn't a comprehensive listing of vintage mass market paperbacks, such as Warren's, Hancer's or Holroyd's price guides. It is a little more like Jeff Canja's Collectable Paperback Books, though there are many more paperbacks listed in Canja's book. (All of these reference books are listed in the Paperback Reference page of the BookScans Reference Library.)
Instead, the book is a listing of what the author considers the most valuable vintage paperbacks ... and he should know ... he's definitely one of the greatest authorities on the subject today. Prices are listed, of course. But what this book has that others on the subject haven't so far is color; 1,100 covers -- all in full color. (There have been full color-illustrated books published about vintage paperbacks, of course, but never a price guide.)
The book is laid out in a unique format, as well. It's broken into categories, such as mysteries, westerns, sports, movie related, etc., and then the listings of books are alphabetical by author. In my opinion, the prices listed are more realistic than other guides; but then, this is the most recent of the lot. It's obvious that a great deal of study went into the pricing.
There is a short, 21-page introduction on collecting, grading, etc, and then each of the sections contains a two-page intro about the various genres. It's a good-looking book, and a lot of fun, too. I most highly recommend it.
Go to my "Links" page and visit Gryphon Books to order a copy.