Writing Mysteries:
A Handbook by the Mystery Writers of America
edited by Sue Grafton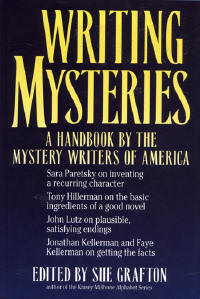 Writer's Digest Books, Cincinnati, OH. 1992. Hardcover in dust jacket. 208 pages (6½ X 9¼). Foreword by Sue Grafton and introduction by Gregory McDonald. Collection of articles by famous mystery writers on how to succeed in the field.
Scan and Commentary by Bob Gaines