The World of Mystery Fiction:
A Guide
by Elliot L. Gilbert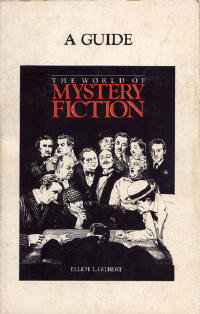 University Extension University of California/Publisher's Inc., San Diego, CA. 1978. Trade paperback. 153 pages. (5¼ X 8¼). Preface by Ellery Queen. Presented as a text book for the study of mystery fiction. Each chapter has a list of objectives, a bibliography, and a series of review questions. It covers the history of mystery fiction and the modern practitioners.
Scan and Commentary by Bob Gaines