Silk Stalkings:
When Women Write of Murder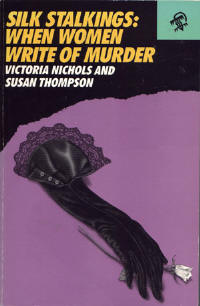 by Victoria Nichols and Susan Thompson
Black Lizard Books, Berkeley, CA. 1988. Trade paperback. 522 pages. (5½ X 8½). Acknowledgments, Preface, Prologue, and Introduction by the authors. The authors provide a long series of essays on women mystery writers. The authors examine many types of detectives from all over the world. There is a breakdown by type and setting to show the wide variety of writings by the female writer. The authors provide a master list by author and their works. A character listing is provided which gives a date for their first and last appearance and number of book appearances. We then have a listing of pseudonyms with real names. Next, we have a listing by series character to author. A series of notes provides much more information. A well done reference work.
Scan and Commentary by Bob Gaines