The Pulp Crime Digests
by Gary Lovisi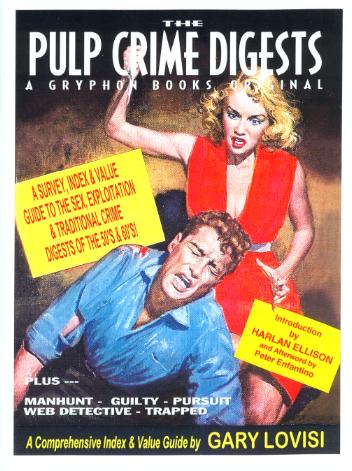 Gryphon Books, Brooklyn, NY, 2004. Large, magazine-size paperback, 140 pages. Hundreds of B&W illustrations.
Lovisi is the man behind Gryphon Books, and the editor of Paperback Parade magazine. Follow the link on my "Links" page to order any of the Gryphon publications in my reference section.
The book lists all of the major and minor (sometimes very minor) mystery pulp magazines that were printed in digest format. A nice checklist, especially considering that some of the magazines didn't take a lot of care in numbering their publications.
Each magazine entry lists dates, authors and story titles. You can see some of the magazines listed on the back cover illustration (below). The book does NOT list pulp digest-sized book publishers (such as Mercury, Avon, etc).