Murder Ink:
The Mystery Reader's Companion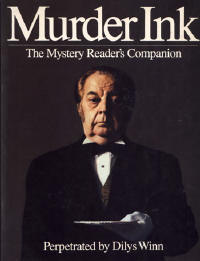 perpetrated by Dilys Winn
Workman Publishing Company, Inc., New York. September 1977. Trade paperback. 522 pages. (8½ X 11). Introduction by the editor. Many short essays on mystery subjects, many of which are written by famous mystery writers, fans and critics. There are fourteen categories and they have essays written by such people as: John Gardner, Peter O'Donnell, Isaac Asimov, Robert B. Parker, and Lawrence Treat. There are many photos of authors and mystery subjects. This is great reading for the mystery reader.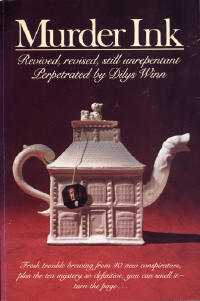 (Revived, Revised). October 1984. Trade paperback. 398 pages. (6 X 9). Many articles in the following headings: Plots, Trouble Spots, Suspicions, Crimes, Victims, Bloodhounds, Side-tracked, Complications, Motives, and Justice. The first edition won the Edgar Award and this edition adds more than 50 new articles and retains a number from the original. A great collection of articles and essays by many fine mystery writers. This edition and the original are well worth owning.
Scans and Commentary by Bob Gaines