Murderess Ink:
The Better Half of the Mystery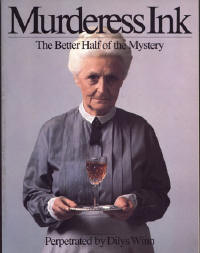 perpetrated by Dilys Winn
Workman Publishing Company, Inc., New York. October 1979. Trade paperback. 304 pages. (8½ X 11). This is a companion book to Murder Ink. It is not as large as the other, but still well worth reading. The essays are by Ngaio Marsh, Dell Shannon, Dorothy B. Hughes, Tabitha King, and Lillian de la Torre. There are many photos of authors and mystery objects. Buy this and Murder Ink if you can locate a copy.
Scans and Commentary by Bob Gaines