The Literature of Crime and Detection:
An Illustrated History From Antiquity to the Present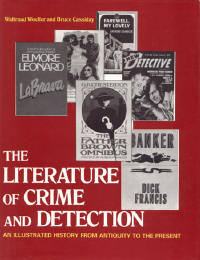 by Waltraud Woeller and Bruce Cassiday
The Ungar Publishing Company, New York. Hardcover in dust jacket. 215 pages. (8½ X 11). Introduction by Waltraud Woeller. This volume originally appeared in Germany and is from an European viewpoint. This book covers much historical writings, including the Gothic novel tradition. The works of Poe and Doyle from the eighteenth century are examined. A chapter is devoted to Agatha Christie and Dorothy L. Sayers. The work of Hammett, Chandler and others is discussed. A number of American and European writers have photos. There is a selected bibliography and an index of crime writers at the end.
Scan and Commentary by Bob Gaines