In the Beginning:
First Novels in Mystery Series
edited by Mary Jean DeMarr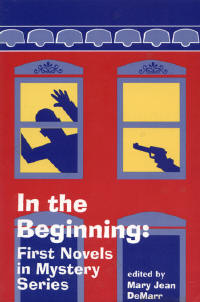 Bowling Green State University Popular Press, Bowling Green, OH. 1995. Trade paperback. 227 pages. (6 X 9). Preface by the editor. An academic study of first books in mystery series, usually featuring a famous detective. Authors and their characters featured are: Agatha Christie and Miss Marple; Rex Stout and Nero Wolfe; Brett Halliday and Mike Shayne; and Margery Allingham and Albert Campion, and ten others. Each chapter is usually followed by a set of notes and a works cited list. The contributors are listed at the end.
Scan and Commentary by Bob Gaines