Hardboiled Mystery Writers:
Raymond Chandler, Dashiell Hammett, Ross Macdonald:
A Literary Reference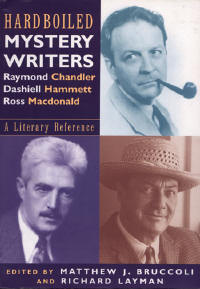 edited by Matthew J. Bruccoli and Richard Layman
Carroll & Graf Publishers, New York. 2002. Trade paperback. 326 pages. (7 X 10). Preface by the authors. Each of the authors is given a thorough examination, with many photos of their works. Recommended for all fans of these writers.
Scan and Commentary by Bob Gaines