Encyclopedia Mysteriosa:
A Comprehensive Guide to the Art of Detection in Print, Film, Radio, and Television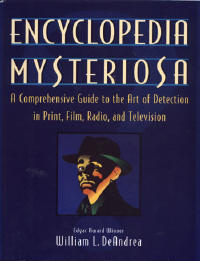 by William L. DeAndrea
Prentice Hall General Reference, New York. 1994. Hardcover in dust jacket. 405 pages. (7¾ X 9½). Introduction by the author. The author covers much material on authors, stories, films, TV, etc. Many authors and books are shown in photos. There are a number of individual essays interspersed among the A to Z listings. Other categories include bookstores, organizations and awards, magazines and journals, and a glossary. Although others have produced the same type of book, this title is one of the best.
Scan and Commentary by Bob Gaines