Colloquium on Crime:
Eleven Renowned Mystery Writers Discuss Their Work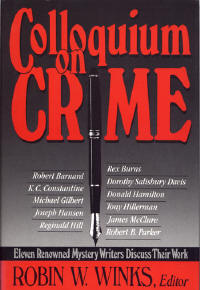 edited by Robin W. Winks
Charles Scribner's Sons, New York. 1986. Hardcover in dust jacket. 216 pages. (6¼ X 9¼). Introduction by the editor. A number of prominent mystery authors write about their lives and careers. Rex Burns, Dorothy Salisbury Davis, Donald Hamilton, Tony Hillerman, and Robert B. Parker are among the authors presented. An index covers the authors and their books.
Scan and Commentary by Bob Gaines