Whitman:
A listing of BIG LITTLE BOOKS and Related Publications
Printed by WHITMAN PUBLISHING COMPANY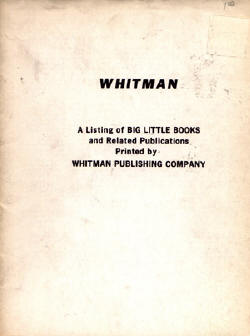 by Dale Manesis
Self Published, Milwaukee, WI. Spring 1970. Small booklet. 24 pages. (6½ X 8½). To the collector by the author. A listing of Big Little Books and other related materials. A minor item. Only for the completist.
Scan and Commentary by Bob Gaines