Pseudonyms:
The Names Behind the Names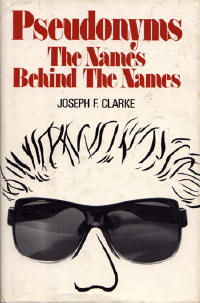 by Joseph F. Clarke
Thomas Nelson Inc., Publishers, New York. 1977. Hardcover in dust Jacket. 252 pages. (6 X 8¾). Introduction by the author. General pseudonyms that cover all time periods and genres. Many of the names have birth and death dates with a writeup on their careers. This also covers pseudonyms used in the fields of acting, politics, and music.
This Scan and Commentary by Bob Gaines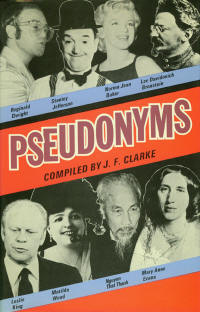 Elm Tree Books, Hamish Hamilton, London. 1977. Hardcover in dust jacket. Blue boards with silver lettering on the spine. 252 pages.
On page 78, he writes of novelist Davis Dresser:
In his first novel the detective was named Halliday but the publisher disliked it and had it changed to Burke. Later, after his first Michael Shayne novel had been accepted by another publisher (having been turned down by the first), he decided he needed a pen-name. For his surname he used Halliday and for his first name he chose Brett, the name of his original publisher who had rejected the name Halliday.