Bibliography of Prohibited Books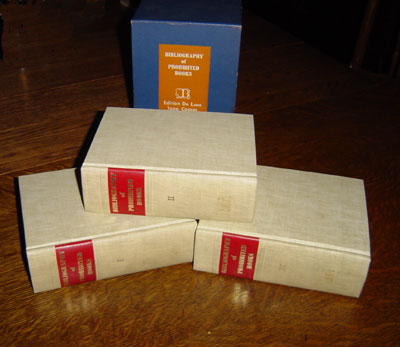 by Pisanus Fraxi
Jack Brussel, Publisher, New York, 1962. Three hardcover volumes, printed without jackets, in hard slipcase. This printing limited to 1,000 copies. The books were originally published in London in 1877. Tan cloth with red blazed spine and gold lettering. Each volume is between 540 and 600 pages with attached ribbon page marker.
Well, it just goes to show you, banned books have been around for a long, long time. This is a true bibliography, extensively footnoted (often in French, German or Latin) and it is exceedingly dry reading, especially considering the subject is dirty books. I happened upon this set in the rare book room of The Strand Bookstore in Manhattan, and it's in a little TOO good condition ... laid out in Octavo Crown, it was unpaginated, and I had to slice the tops and sides of the pages for the first time since it was printed. One of those books that people may want, but no one wants to read.
The one thing that really impressed me was this: Following the dark ages, risqué text was tolerated. It was not until much later, in the 17th, 18th and especially the 19th Centuries, that books were banned for sexual content. Often, books that had been around for a hundred years or more were suddenly deemed inappropriate for more modern sensitivities.