Uncovered
The Hidden Art of the Girlie Pulps
by Douglas Ellis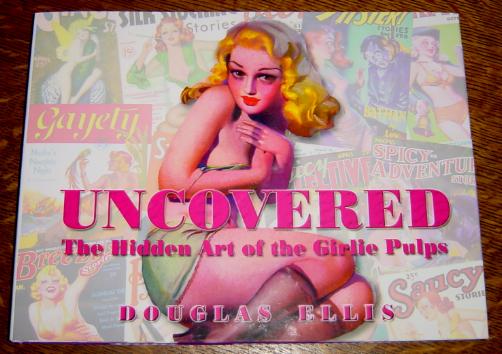 Adventure House, Silver Springs, Maryland. 2003. Oversized hardback with glossy cover. Dust jacket. 208 pages.
The most collectible of all the pulp magazines were the risqué romance, adventure and mystery publications with pin-up style cover art. Dating back to the 1920's, this style really hit its prime in the mid-30's with such periodicals as Bedtime Stories, Tattle Tales, Paris Nights, PEP, Spicy Adventure, Spicy Mystery, Spicy Western, Spicy Detective, Saucy Movie, Snappy, Hollywood Nights, and dozens of other magazines, many of which are worth a hundred bucks a copy nowadays (and sometimes much, much more).
There is a lot more history here than Adventure House's other big reference book listed in this web site (Belarski: Pulp Art Masters). The writing is concise, interesting, and well presented. The illustrations are nothing short of fabulous. I most highly recommend this book.
Adventure House is a Pulp Magazine reproduction publisher. You can order this book through their web site. Follow the link on my "Links" page.