The Sexy Digests
by Gary Lovisi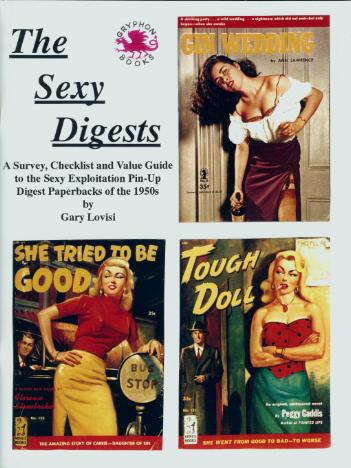 Gryphon Books, Brooklyn, NY, 2001. Large, magazine-size paperback, 98 pages. Hundreds of B&W illustrations.
Lovisi is the man behind Gryphon Books, and the editor of Paperback Parade magazine. Follow the link on my "Links" page to order any of the Gryphon publications in my reference section.
I get a real kick out of the author's definition of the genre, that basically says: "collectors know them when they see them." And that's 100% correct. This is by far one of the most sought-after types of books by vintage collectors.
The book is full of authors, pen names, and interesting discussions about covers, content, and topics. There are lots of great little tidbits about editors adding content without an author's knowledge, etc.
There are about a thousand books in the checklist section of the book. (You'll find around a hundred of them in my digest database on this web site.) I highly recommend the book.