Dian Hansonís:
The History of Menís Magazines
Volume 2: Post-War to 1959
edited by Dian Hanson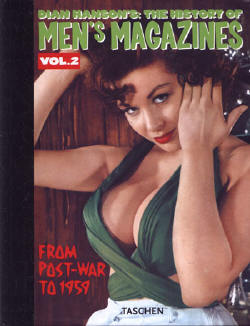 Taschen GmbH, printed in Germany. 2004. Hardcover with no dust jacket. 460 pages. (8 X 11). This volume starts out with a timeline of history with menís magazines. Each chapter seems to be repeated in English, French, and German. This volume, as well as all six volumes, is well illustrated with thousands of color photos illustrating the development of menís magazines. In some cases, the text is in English, German, and then French in three columns on one page. The information is presented in a chronological order, and shows an amazing number of covers in full color. Each phase of the development of the field is well documented. There is coverage on the better known titles like Playboy, Swank, Rogue, Adam, Esquire, and many hundreds of others. Itís doubtful that anyone will ever attempt a more complex retelling of this field. Each volume will probably run you about $50.00, unless you can get them on a discount. Youíre not likely to find these volumes in your normal bookstore.
Scan and Commentary by Bob Gaines