The History of Mens Magazines
Vol 1: from 1900 to Post-WWII
by Dian Hanson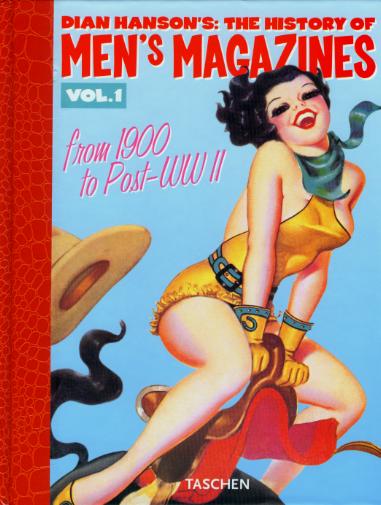 Taschen, printed in Germany. 2004. Oversized hardback, issued without jacket. Slick cover with red imitation snakeskin binding and back cover. 400 pages. B&W and full color illustrations throughout. It should be noted that many of the pictures (faithfully reproduced from the original magazines) are sexually graphic in nature.
A no-holds-barred look at adult magazines for the first half of the 20th Century, from England, Germany, France and the United States. The book is printed in English, French and German.
These include many of the pulp favorites, such as Snappy, the Spicy series of magazines, Sex Monthly Magazine, Paris Nights, Silk Stocking Stories, Stolen Sweets, "Movie / Screen & Film Fun" magazines, a plethora of crime and detective magazines, various cartoon magazines, Nifty, Giggles, Play, and dozens and dozens of other pin-up and risqué publications.
It also delves extensively into some of the "underground" magazines, devoting a whole chapter to the Tijuana Bibles.
I think the book is a great deal of fun.
But then, I'm a man.