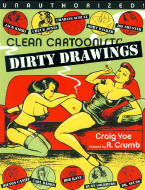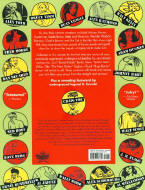 by Craig Yoe. Forward by R. Crumb. Oversized paperback; thick, raised imprints on back cover. 160 pages. Last Gasp Publishing, San Francisco.
Mostly "R" rated drawings, but sometime very racy, this book covers the sexy doodlings of America's best loved cartoonists. Dr. Seuss, Al Capp, Johnny Hart, Charles Schulz, Hank Ketcham, Mort Walker, Hal Foster ... the list goes on and on. Brief bios of each makes this a reference book worth keeping, and the drawings, sometimes in full color, are a real hoot.
It's a great deal of fun. Most highly recommended.
(click a thumbnail to see a larger image)