Who's Hugh?
An SF reader's guide to pseudonyms
compiled by Roger Robinson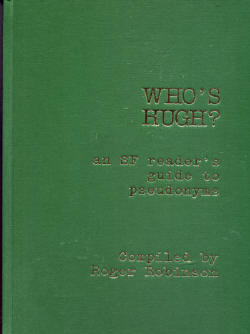 BECCON Publications, Essex, England. June 1987. Hardcover with no dust jacket. 173 pages. (8½ X 12). The compiler gives some information on how the book is arranged. He also provides an interesting list of why authors find it necessary to use pseudonyms. There is a numbered listing of sources for the pen names; like the ones provided by McGhan. You have to get used to the way the information is presented, because you can get lost among the names. Some of the pseudonyms have as many as ten sources listed by number. Nevertheless, pick up a copy if you locate one. Just remember, it will be twenty years out-of-date.
Scan and Commentary by Bob Gaines