Science Fiction Writers:
Critical Studies of the Major Authors
from the Early Nineteenth Century to the Present Day
edited by E. F. Bleiler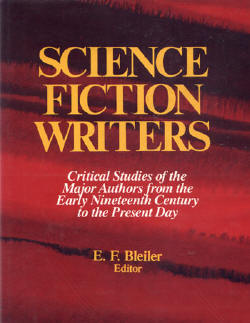 Charles Scribner's Sons, New York. 1982. Hardcover in dust jacket. 623 pages. (8¾ X 11). Introduction by the editor. A large number of science fiction writers, ranging from Mary Wollstonecraft Shelley to Stanislaw Lem, are given a long writeup on their careers and writings. A selected bibliography and critical and biographical studies follow each entry. The entries generally follow a chronological order. Nearly all of the well known authors are examined. Twenty-six academic authorities and authors contributed essays for this volume.
Scan and Commentary by Bob Gaines