An extremely collectible label by today's bibliophiles, Ace Books began publishing in 1952 under the guidance of A.A. Wyn and Donald A. Wollheim. Wyn owned a pulp magazine empire that included Secret Agent X, Ace Sports, Western Aces, and many others. Some of his most popular magazines included Ten Detective Aces and Ten Story Love, and this concept of cramming multiple stories into a single publication may have been what prompted the "Double Novel" concept that became so prevalent at Ace Books.
Wollheim, for his part, can be seen in several of the other publishers' databases in this site as a writer and editor of science fiction short story anthologies. He was obviously instrumental in the rise of the science fiction novel as a staple of the paperback industry. Ace certainly led the way in this field.
It's impossible to tell which novel in a "Double" book is supposed to be the main title. In early volumes, each side simply tells you to "Turn Over Book for 2nd Novel." The novels were NOT numbered within a book.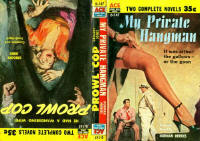 Wyn's concept was to have one Paperback Original and one reprint in each book. At first, he published two books per month, a pair of Westerns and a pair of Mysteries. Later, he increased that to four volumes per month, adding a pair of Adventure novels and a pair of Sci Fi novels. Generally among later D-series books, the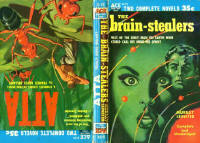 Westerns bore a green stripe at the top of each cover; the Sci Fi covers had a blue stripe; the Mysteries a yellow stripe; and the Adventure books could be just about any color, though most were red.
The D-Series books sold for 35¢. Some were single novels, but kept the "double novel size" (more and more single-novel books were printed as the series progressed). A few S-series books (interspersed in numerical order within the original series) were much thinner and sold for a quarter. Some 50¢ "G" books were also included in this first run of Ace books.
The original Ace series books went through 1965 and ended with #599. The last books were generally thin westerns or nurse (romance) books. But at 35¢, the "D" books were still one heck of a deal in the mid-60's, when most books sold for 50¢ or more.
If you're an Ace aficionado like me, you should visit Michael Smith's Ace Image Library.
This page was updated in June, 2017