Ballantine 165 back cover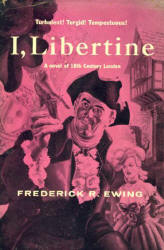 Ballantine H165
This story is no secret. It's been published in the New York Times. It was an entry in Now I Know More, by Dan Lewis (Adams Media, Avon, MA, 2014). And, it's been detailed in Wikipedia, as well as being published online (in much greater detail) HERE. But ... it's sublimely entertaining, and deserves wide dissemination. It most certainly qualifies as a "Vintage Paperback Oddity."
In 1953, an outspoken radio entertainer named Jean Shepherd (not to be confused with actress Jean Shepard) moved from WLW in Philadelphia to WOR in New York, where he helped launch a new format, which today has become known as "Talk Radio." The all-night audience was not extremely large; but as it turns out, they were very loyal listeners.
The topics were numerous and they varied widely. At some point, a call-in listener began ranting about the New York Times Bestseller List. That list has always been very controversial. It does NOT actually list books that have sold the most copies. It is derived through the use of a formula that includes how fast a book sells (not how many), the number of requests to booksellers and wholesalers, library orders, author recognition, and numerous other factors.
And so, Shepherd came up with a devious scam. Well, I guess you couldn't really call it a scam, because literally hundreds of people were in on it. He asked his listeners to come up with a fictitious author and a fictitious title. Then, they all ran around the city asking for the book ... or other works by the same author. Their choice of titles: I, Libertine by Frederick R. Ewing, a "well know" British writer of historical fiction (though, of course, there was no such person and no such book).
For weeks after that, callers filled the early morning air waves with tales about people they'd met who claimed to have read the book, who "greatly admired the author's work," and booksellers who moaned to potential buyers that they had just sold their last copy ... but promised to order more immediately. And, sure enough, after several weeks of this, the book made the New York Times Bestseller List, even though it didn't actually exist.
It was all great fun, but eventually it gave way to talk of sports, politics and other important topics of the day. Then, later that same year, Shepard and sci-fi author Theodore Sturgeon were having lunch with Ian Ballantine, Sturgeon's publisher. (Read more about Ian Ballantine in the Penguin, Bantam and Ballantine sections of BookScans. And view more than a dozen books by Sturgeon in the Avon, Ballantine and Pyramid sections.) During the meal, Sturgeon asked Ballantine if he wanted to meet the famous bestselling author, Frederick R. Ewing; and when the publisher jumped at the idea, Sturgeon pointed to Shepard, then related the story. Ballantine immediately asked Sturgeon to ghost write the now-famous novel, and it was actually published in 1956.
As was the case with several of the Ballantine books, it was released simultaneously in hardcover and "paperback original." Both bore the same cover illustration by pulp artist Frank Kelly Freas, though the hardcover's dust jacket version was tinted. The back cover bore a brief, wholly fictitious biographical sketch of the author, including his colorful wartime military service with the Royal Navy and his "well remembered BBC broadcasts about Erotica of the 18th Century." The accompanying picture is of Shepard.
The proceeds from the book went to charity. And finally, after the book had once again made their Bestseller List, the whole plot was explained to the New York Times, which published an article about the affair.
(Much later, Jean Shepard wrote a semi-autobiographical novel entitled In God WeTrust: All Others Pay Cash (Doubleday, NY, 1966). Eventually, it was adapted for screen and released in 1983 by MGM as A Christmas Story, about a boy who wants a "Red Ryder" BB gun for Christmas. Shepard co-wrote the script, and it is his voice that provides the narration in the movie.)
Thanks to Bob Gaines for pointing out the Dan Lewis book.
And, thanks to Doug Wise for pointing out the web story by J. Mark Powell.